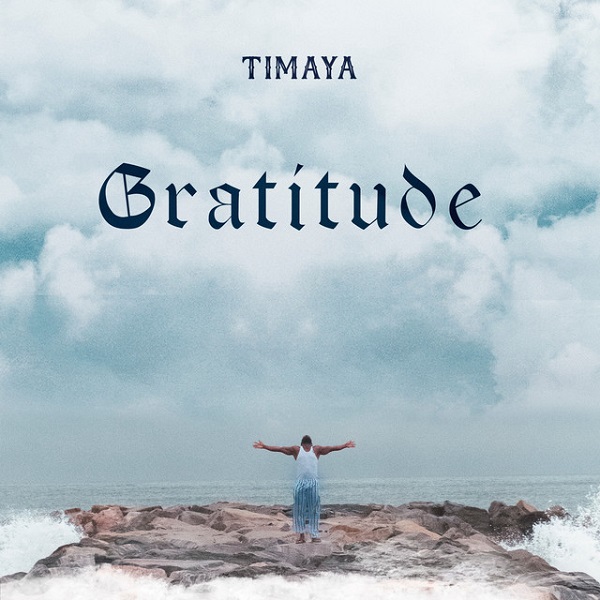 The most highly rated Nigeria singer Timaya has officially released his much anticipated album tilted "Gratitude". The studio work is said to be the 7th album of the superstar and feature no one in it. The album work details his sincere gratitude to God for all he has done for him.
Dem Mama Records, Timaya is the name that brought the hip pop singer into limelight in 2005 with the 15-tracks solo project, which had production assistance from Yung Willis, Orbeat, Ayzed, Spotless, Wireless Mouth, Chillz, Vibe O, BoomBeatz, Krizbeatz, and Chris Strings. Timaya has to combine the talent of these guys.
The dancehall artist On April 20, 2020, made a post on his Instagram account to reveal the title of his forthcoming album, his readiness to release it and to inform his fans the reason for the delay and went ahead to question his fans if he should release the album. Below is the quote from his page
–  "Beautiful people, what's good? Listen. I was supposed to be bringing out my album, titled 'Gratitude.' I've been waiting for this corona period to get over, but I don't see that coming any time soon. So what do you want to tell me, should I drop it? I'm asking because I don't want to look too insensitive, but trust me, I want to drop that album… It's fire.
"Tell me what you think, should I drop it or should I wait till after corona?"
The album comes after the artist released his last body of work title "Chulo Vibes. The last body of work was an EP with quite some nice songs on it, that fans loved and just couldn't have enough of. The Endsars protest might have delayed the release of the The Album but certainly fans were patient enough to wait for it release and it was definitely worth the wait. Let review the songs one after the other.
Let Us Review The Album Gratitude
By Timaya –
• BORN TO WIN AND IBERIBE
Born To Win is the first song of the 15 track album. The song expresses his willingness not to fail but win in life. Timaya stresses the fact that he doesn't have anyone to look up to and that he has to strive hard to win at all times irrespective of how tough the situation is. While on " Iberibe" Timaya took us on another level and gave a whole different vibe. This time who was heard praising a girl for her body and expressing how much he loves her. Really dope!!!
• DON DADA AND SOMETHING MUST TO KILL A MAN
"Don Dada" sees Timaya talks about how people easily betray other people who once helped them. The song starts with the singer mentioning the fact that he has helped lot of people who came into the industry, but that immediately they get fame, they tend to forget who once helped them. But nonetheless, Timaya says, he still remains the boss and doesn't care what other people do to him. While "Something must kill a man" on the other hand is a very tricky song. Timaya reportedly says that something must kill a man but that doesn't mean, that a man shouldn't work hard for his money. He added that a man need to make money to live a good life. Awesome songs!!!
• NO LIMIT AND THE MOOD ✔
No limit sees Timaya talks about his lifestyle and how he really doesn't care about what people had to say that was displeasing to him. He talks more about how he has no limit but always stick to what is right. While The Mood sees the singer tall about how he has many things to say but chooses not to say them. He mentions that he chooses to remain cool and act rightly regardless of how people acts towards him. Massive tune!!!
• ✔ CHULO BOTHER NO BODY AND OKAKA
Chulo Bother No Body sees Timaya talks about an imaginative person who doesn't like to be bothered about anything or disturbed. Chulo just want to remain bless and grateful. While Okaka talks about his gratefulness and literally how he used to be a nobody but now a big star and living a cool lifestyle. Okaka therefore means thanking God for all he has done.
• ✔ GRA GRA AND LOCAL N BOUGIE
Gra Gra talks about how humble Timaya has been. The singer uses the song to express that he is not the type of person that loves to fell highly of himself. He mentions that he doesn't act too big and that he will always try to be humble no matter the situation, he finds himself in. And so he advises others to also be humble always. While Local N Bougie sees Timaya talks about how even if he was local and receive no love, that he will always party and cruise hard without the love of anyone. He reportedly announced that he doesn't need the love of anybody before he can be happy.
•
✔ EBIOLA PAPA AND L.O.V.E
Ebiola Papa sees Timaya go religious in the starting after he begs God not to leave him but be with him always. He then moves on to advise others of how they need to work before the earn. He goes to ask for those who once laughed at him before, where they are now. It a really inspirational song you'd listen to and get inspired to achieve more with your life. While L.O.V.E is a magical thrilling song by Timaya that talks about a good woman and her characteristics. He kept heaping praises on her and continuously talks about how grateful he is to have her in his life. 
• ✔ THE LIGHT AND I CAN'T KILL MYSELF
The Light takes a twist and sees Timaya talk about the situation of the country and encourages Nigerians to hope for better days that is The Light. It highlights the sufferings of the people and how they have to keep moving irrespective of how bad things are. While I Can't Kill Myself talks about his struggles and how he can't kill himself over things he can't control. Timaya mentions that people should allow him flex and relax and enjoy his life cause trouble don't end. Nice vibe!!!
• ✔ BURU
This is the last song from the 15 track album. It sees Timaya talks about how greatful he is for all God has done for him. The song starts with him thanking God and ends with him thanking God too. Timaya mentions that he will forever be grateful to God for all he has done, hence Buru. Nice jam!!!
Ratings Of The album Gratitude By Timaya –
This for me is the best album of the year and I really love what Timaya did on the album and how he went all thankful to God for all he has done. The whole song resonate with the title of the Album "Gratitude". For me it really great album. Nice job Timaya!!!
Production – 9/10
Lyrics – 9/10
Vocals – 9/10