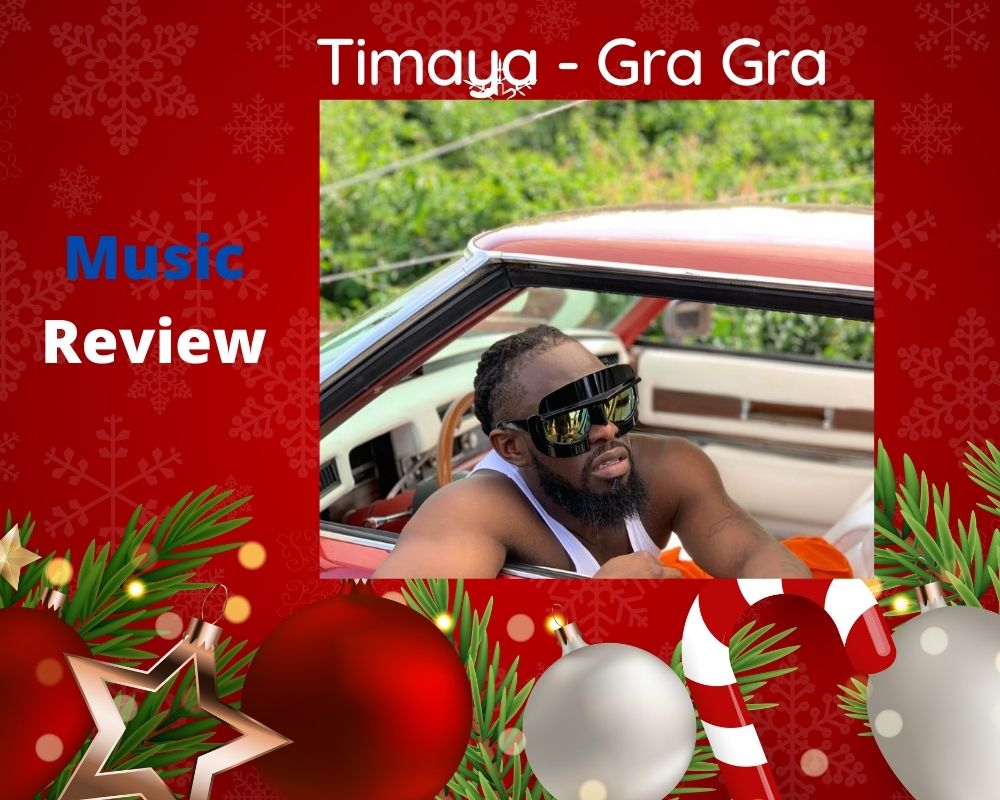 The icon, Dem Mama Records headman, Timaya present a brand new melodious single titled "Gra Gra", off his yet to release album "Gratitude". The new track is a song off his expecting forthcoming album tagged "Gratitude" and it comes after his previously heard single titled "Born To Win" which is still enjoying massive airplay.
Let Us Talk About Review Timaya – Gra Gra
Though, the new song talks extensively about him being grateful to God for all he has done for him. The singer stressed on the fact that he does not do gra gra neither does he like to GBE raga in order words, he doesn't feel proud of the the things he has achieved nor does he feel proud of his current lifestyle and status.
The artist goes on to speak about people who don't like to work, but always want to eat, and those of hate hard work but love the pleasures of riches. Timaya reminds those people in his song that before they become masters, they must first be servants. And most importantly, he talks about those who hate suffering bur loves quick riches.
He doesn't stop there, but goes on to express how happy he is now and living the life he has always wanted. He stressed the fact that God knows how hard he has worked and that now he is chilling in God blessings. Timaya made it known in the song that no one should try and mess with him as he is already to not answer anyone.
More On The Song Timaya

–

gra Gra

Timaya over the years is known for his inspirational song and certainly doesn't disappoint on this one. Gra Gra could be seen as a blend of some good tunes coupled with some inspirational lyric at that. Timaya goes from declaring that he doesn't love Gra Gra, to also emphasize that he is humble and doesn't feel proud about his achievements in live. The song is quite melodious in all ramifications. Timaya then went further encouraging people to work hard before trying to live a fancy lifestyle. He encourage people to be humble at all cost and not give up on their dreams. 

If you'd ask me I'd tell you this song is a whole vibe anytime any day. All you need do is relax and sing along to it. Timaya voice could be held being accompanied by a melodious streams of instruments that sends thrills down the spin when being heard. It such a great vibe that you can't resist but sing along to when it is being played. 

Timaya also added how young people of this day want to live as a master without first being a servant. He therefore stress the point of people being loyal to serving before thinking of being a master. This way being successful will make a whole lot sense. 
Comparizm Of Timaya – Gra Gra
And other Songs
Comparing Gra Gra with his formal single like "Born to win". It was also an instant hit when it was released as well. Timaya in no long time, then gave fans another hit in Gra Gra. Both songs have really great messages in them and they are both very inspirational. Timaya sure never disappoint his fans with his music. Born to win did great in the market on it;s release, but certainly Gra Gra seem to be a more bigger hit than born to win. Gra Gra has this vibe that just makes it seem to be an instant hit. 
If you get to listen to Gra Gra for just ones you will definitely start singing along the next time you hear it, that's how great and lovable the song was. You just can't have enough of such melodious song.
Gra Gra was an instant hit compared to his previous single. Tho both are very thrilling and unique, Gra Gra just happens to have a very special vibe that just makes it very enjoyable.
Timaya Performance Over The Years
 Over the years Timaya is known for releasing some really great hit to the industry and he has constantly done that since the year started. Gra Gra definitely is set to be the big music in the industry.
Timaya has also made plans down for the video to be shot soon enough. Fans are already craving for the release of the video. It save to say Timaya really is one of the best artist in the music industry right now. He has been there for so long and known how things works. Gra Gra is really a great song.
Thought Of The Song Timaya – Gra Gra
With just a few days of it release, the song has already garnered thousands of streams and download from online streaming platforms. It has also started receiving massive airplay from radio stations and TV channels across the nation with many fans already singing to the hit. 
There is no doubt that this is one of the best song from Timaya this year, while we wait for his album. It save to say this was a really cool and thrilling song that anyone would vibe to all day long. The melodious beat and rhythms coupled with the sensational voice of Timaya made the song a really great one. 
Production – 7/10
Lyrics – 7/10
Vocals – 8/10
What Is Your Opinion On This Song?
We want to hear from you all.
Drop your comments