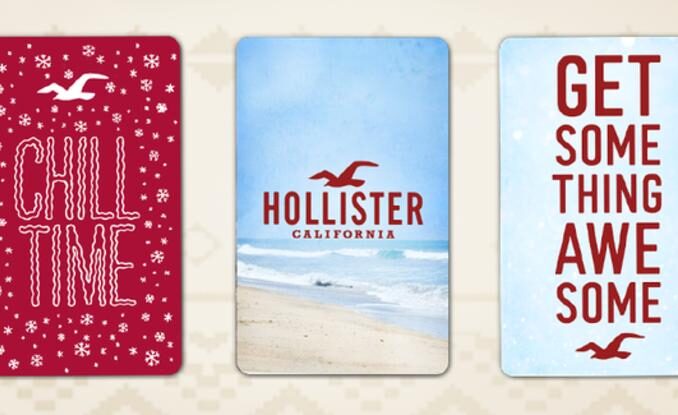 The Use Of Hollister Co. Credit Card And Gift Card
Hollister is a company that create different kind of carefree jean clouths, includes top fine pants best for your skin with so much comfort. However, merchandise can purchase there items online. In order to make it easier, they do not have credit cards instead offers customers Gift card for clothes purchase, here will explain the process of the cards and how it work.
Hollister Gift Card and E- gift card
Hollister gift cards and E- gift card can be used online and in-store to purchase merchandise. Hollister cardholders can also enjoy exclusive cardholder benefits, such as free shipping and early access to sales.
Gift cards are the perfect way to show your friends and family how much you care. A Hollister gift card can be used online or in- store, making it the perfect choice for any occasion. With a variety of designs to choose from, you can find the perfect gift card for your loved ones.
E- gift cards are a convenient way to send a gift, and they can be used just like a regular gift card. You can purchase an E- gift card on there official website and have it emailed to the recipient. They can then use the E- gift card online or in- store.
Table of Contents
How to Purchase Hollister Co. Gift Cards Online
However, if you're looking to purchase a Hollister Co. gift card or E-gift card, then here you can do so easily and conveniently online. Hollister Co. The gift cards can be used both online and in-store, so they make a great gift for any Hollister Co. fan. Here's a quick guide on how to purchase Hollister Co. gift cards online:
Visit the Hollister Co. website.
Hover over the 'Shop' tab and select 'Gift Cards' from the drop-down menu.
On the 'Gift Cards' page, select the type of gift card you would like to purchase.
Enter the desired amount and click 'Add to Bag.'
Proceed to checkout and enter your payment information.
Once your payment is processed, you will receive an email confirmation with
Note: this process can change with time, but however always follow the onscreen instructions.
Any one interested in purchasing Hollister Co. plastic gift cards can only do so in denominations of $25, $50, $100 and $200. Users who prefer e-cards can purchase them in the same denominations as the gift cards as well as in $75, $150, $250, $300, $350, $400, $450 and $500 amounts
How to Redeem Hollister Co. Merchandise With Gift Cards
A cardholder of Hollister Co. gift card, can use it towards purchase of Hollister merchandise both online and in-stores.
To use the gift card online, simply enter your card number and PIN at checkout. If you're shopping in-store in California USA, present your gift card to the cashier at the time of purchase. Hollister merchandise includes clothing, accessories, and fragrances for both men, women and children's.
If you have any questions about using your Hollister Co. gift card, please contact Customer Service at 1-855-2-HOLLISTER.
In order to buy Hollister Co.iteme using a gift card online, the cardholder must enter the 16-digit account number and PIN in the "Gift Card" field in step 3 of the checkout process. Gift and e-gift cards that clients purchase online are separate from any promotional offers and do not have an expiration date.
Limitations Of Hollister Co. Gift Card
Hollister Co. gift cards are a great way to give the gift to friends and family. However, there are a few limiyation to keep in mind before you purchase a Hollister Co. gift card.
(1) There gift cards can only be used at Hollister Co. stores and online at there various branch to purchase any of there brand in USA. They cannot be used at other brands.
(2) Once you purchase the card, the company deems the sale as final, and the client can no longer refund after 60 days.of purchase.
(3) The company does not replace lost or stolen cards.
(4) Hollister Co. gift cards are subject to the same Terms and Conditions as other Hollister Co. products
Advantage Of Hollister Co. Gift Card
Hollister Co. is a leading retailer that provides a wide range of gift cards to help you enjoy great savings on your purchases. Hollister Co. gift cards are accepted at all of their stores across the United States. You can use your Hollister Co. gift card to purchase any merchandise including clothing, accessories, and fragrances.
The main advantage of using a Hollister Co. gift card is that you can use it to save money on your purchases. Gift cards are a great way to save money because you can use them to purchase items at a discounted price. In addition, you can also use your gift card to earn rewards points that can be used to save even more money on your future purchases.